Matlab
From CVL Wiki
(Difference between revisions)
Line 19:
Line 19:
 

Go to [http://www.mathworks.com/ Mathwork's home page] and click on create account.

 

Go to [http://www.mathworks.com/ Mathwork's home page] and click on create account.

 
 
−

Once you have reached the create account page fill out the E-mail and Password information using your PID (ex.johnsmith@vt.edu) and password. Also fill out the box entitled County/Software Usage Information and select USA for Country/Region and Academic Use on a University Computer for software use

+

Once you have reached the create account page fill out the E-mail and Password information using your PID (ex.johnsmith@vt.edu) and password. Also fill out the box entitled County/Software Usage Information and select USA for Country/Region and Academic Use on a University Computer for software use

 
 
 
 
---
Revision as of 13:45, 14 March 2007
Creating an Account for Matlab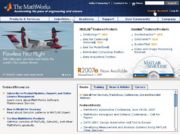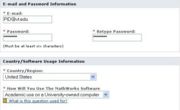 Disclaimer: The information for Creating an account and associating it with a license is for Virgina Tech faculty only. Students must use their version of Matlab or use the CVL in order to use Matlab.
Go to Mathwork's home page and click on create account.
Once you have reached the create account page fill out the E-mail and Password information using your PID (ex.johnsmith@vt.edu) and password. Also fill out the box entitled County/Software Usage Information and select USA for Country/Region and Academic Use on a University Computer for software use.
Additional Links